Hakainde Hichilema || Biography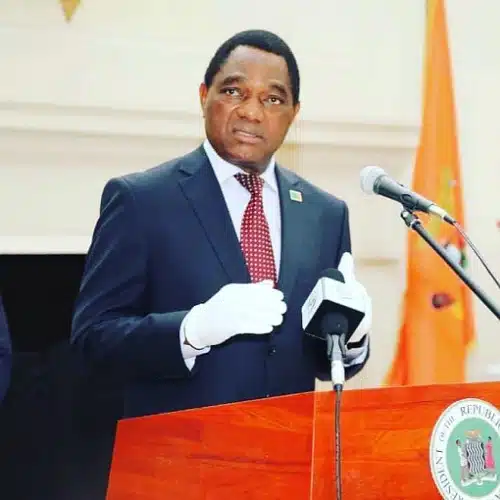 Hakainde Hichilema Biography
Hakainde Hichilema is a Zambian politician and businessman who is currently serving as the seventh President of Zambia, having assumed office on August 24, 2021. He was born on June 4, 1962, in the Monze District of Zambia.
Hakainde Hichilema grew up in a rural farming community and attended a local primary school before earning a scholarship to attend the prestigious secondary school, Munali Secondary School in Lusaka. He later went on to study at the University of Zambia, where he earned a bachelor's degree in economics and business administration.
After completing his studies, Hakainde Hichilema worked for a number of multinational corporations, including Coopers & Lybrand, a global accounting and consulting firm. He later founded his own business, the investment management firm, Hakainde Hichilema, which has investments in a variety of sectors including mining, agriculture, and real estate.
In 2006, Hakainde Hichilema became involved in politics, running for the presidency of Zambia under the United Democratic Alliance (UDA) party. Although he was not successful in that election, he continued to be involved in politics and ran for president in subsequent elections, including the 2015 and 2016 elections.
Hichilema's message of economic reform, anti-corruption, and job creation resonated with many Zambians, and in the 2021 presidential election, he was finally able to secure a victory, defeating the incumbent president, Edgar Lungu.
Hakainde Hichilema is married to Mutinta Hichilema, and together they have three children. In his free time, he enjoys reading, hiking, and spending time with his family.