DOWNLOAD ALBUM: Macky 2 – "Ghetto President" | Full Album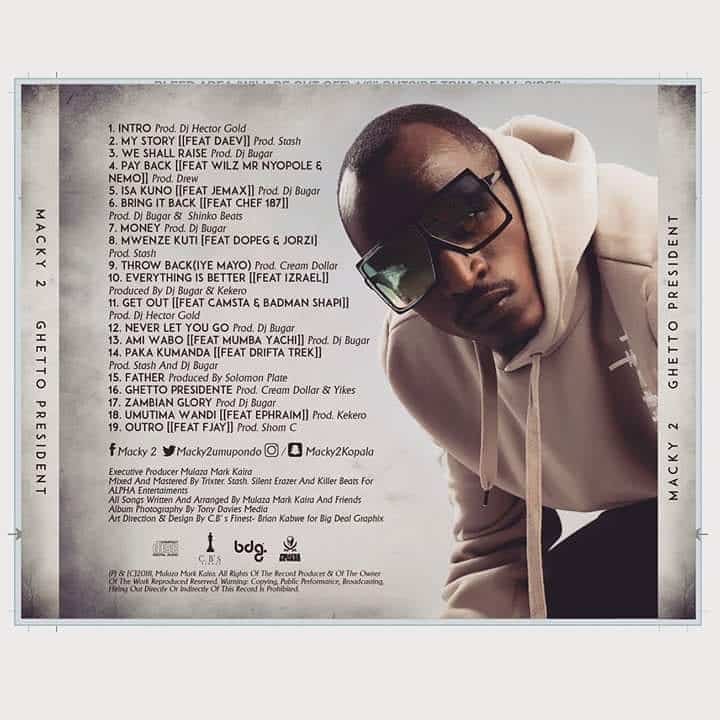 Ghetto President was the name given to this beautiful masterpiece. Enjoy the song by streaming and downloading it. Zambian people are largely celebrating the way the artist did his songs. Ghetto President is an old time song that will change your mood. With the artist's passion towards music . He made this song an historical one.
Tracklist
 Introl
My Story Ft. Daev Zambia
We Shall Raise
Pay Back Ft. Willz Mr Nyopole
Isa Kuno Ft. Jemax
Bring It Back Ft. Chef 187
Money
Mwenze Kuti Ft. Dope G & Jorzi
Throw Back (Iye Mayo)
Everything Is Better Ft. Izrael
Get Out Ft. Camstar & Badman Shapi
Never Let You Go
Ami Wabo Ft. Mumba Yachi
Paka Kumanda Ft. Drifta Trek
Father
Ghetto President
Zambian Glory
Umutima Wandi Ft. Ephraim
Outro Ft. F Jay
Everyone loves it despite it being old. It has remained a massive piece since its released date. Ghetto President is an iconic Zambian song which was done a long time ago but it is still valuable. Download it below for more content.